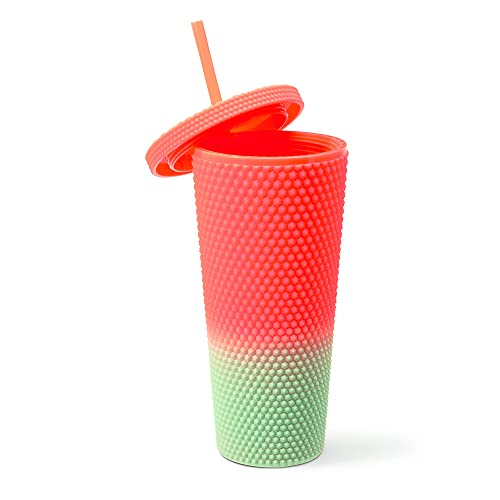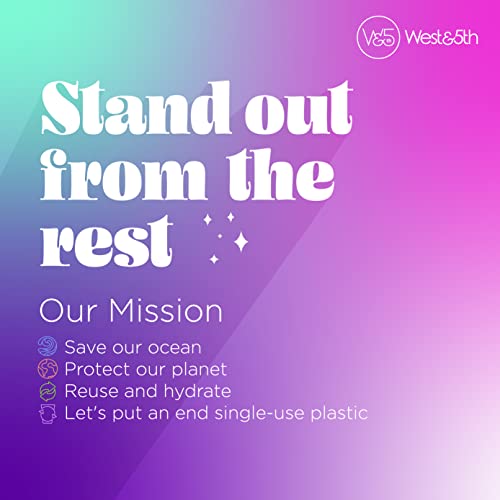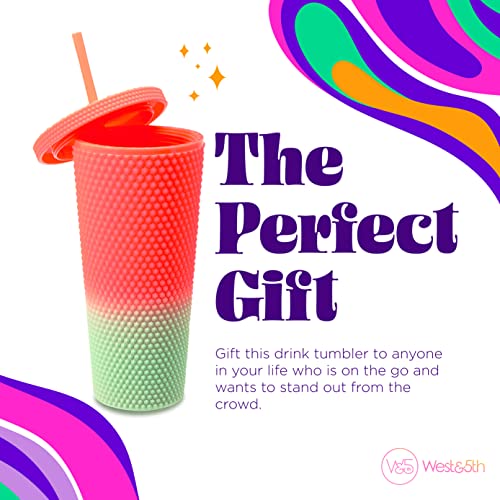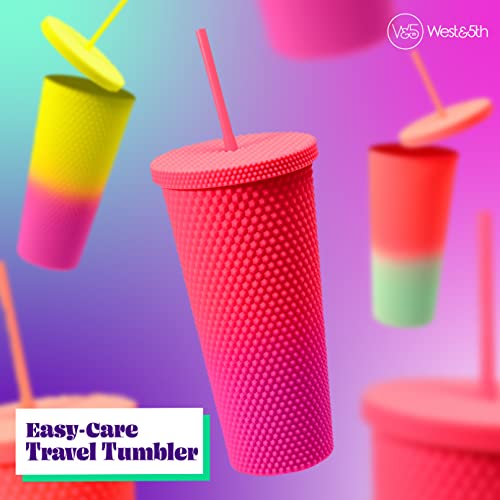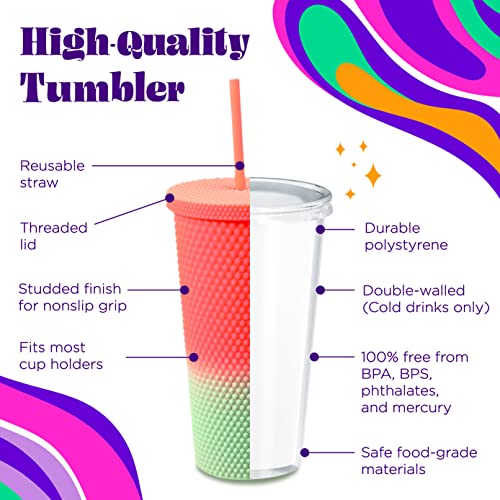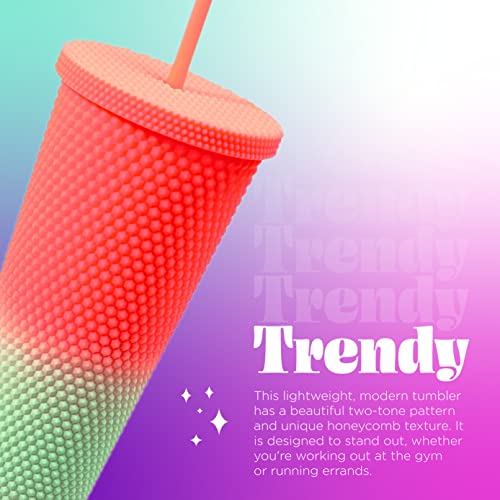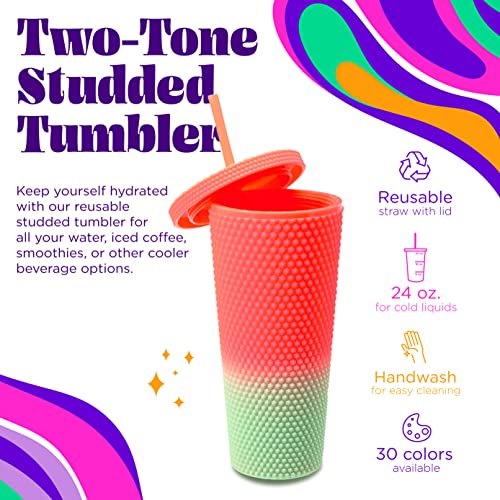 Two-Tone Matte Studded Tumbler with Lid & Straw, Reusable BPA Free Plastic Water Bottle
Sale price
$19.99
Regular price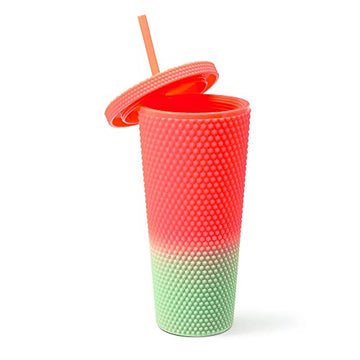 Two-Tone Matte Studded Tumbler with Lid & Straw, Reusable BPA Free Plastic Water Bottle
Sale price
$19.99
Regular price
Brand: WEST & FIFTH
Color: Coral & Mint
Features:
Studded Tumbler: Has a studded honeycomb spiky exterior & touch that feels great on your hands. The two-tone ombre colors give it an extra flair!
Double Wall: Double wall insulation to keep your favorite beverages at the right temperature for hours. Please note, this bottle is made of PETG and won't contain hot or cold as well as stainless steel bottles would.
Premium Quality: Made with sustainable & durable polystyrene materials that is food-grade safe, BPA & toxin free. Odor free and healthy for your daily coffee drinking, so that it won't influence the taste or impact your health.
Light Weight & Portable: Light weight, yet durable. Not bulky & heavy like stainless steel bottles, it's easy to carry around with you on the go, as you run errands, to the gym, car, home, office & more.
Non-Slip Grip: The studded textured exterior gives it a non-slip grip, to easily carry and grab when you want to drink. It also makes it sweat free.
Wide Mouth: Wide mouth lid so you can easily add ice to your water, cold brew, iced coffee, and other beverages throughout out the day. And when you're done, the wide mouth construction makes it super easy to clean.
Leakproof: Threaded screw-on lid to prevent any spill or leaks. Stopper on the base of the straw for added leak protection.
Hand Wash: Hand wash only. Do not microwave. To wash, simply remove the lid and straw and hand wash it in the sink.
100% Satisfaction Guaranteed: Whether you have an issue with your lid, straw, or bottle, just let us know and we will fix it for you as part of our guarantee.
Details: Need a way to keep your water or iced coffee cool throughout the day? West & Fifth introduces our handy Two-Tone Studded Reusable Tumbler, the perfect cup for cold liquids that stands out from other tumblers. The outside is decorated with matte-coated rubber and features a unique spiky honeycomb texture that can massage your hands as you hold it. This textured tumbler holds 3 cups of your favorite beverage and maintains the temperature inside for hours to keep your drink cool and refreshing. The lid features a special rubber ring that keeps it twisted on tight and helps prevent spill or leak accidents, and each straw has a stopper ring on the base that keeps it from falling out and adds extra leak protection. Made with sturdy polystyrene and safe food-grade materials, this sturdy tumbler can withstand daily use as you go about your day. It holds 24 oz. of liquid and is lightweight enough to carry to the office, to your car, to the gym, or around your home. Wrap up this tumbler to give to your loved ones as a fun way for them to stay hydrated while expressing their style. Find the cup you love with our reusable tumbler options!All of our tumblers are 100% free from BPA, BPS, phthalates, and mercury for your safety and convenience. To wash your water and iced coffee tumbler, remove the lid and the straw and wash the cup by hand in a sink, letting it dry before your next use. This tumbler should not be used with hot liquids and should not be put in the dishwasher or in the microwave.At West & Fifth, we believe that there's no such thing as a one-size-fits-all product. All of our products are exclusive, as they are designed in-house using fun, vibrant, fashion-forward, and custom colors and designs. Since inception, we've designed and launched over a thousand other quality products. We're constantly bringing new products to market to fit with current seasons, colors, and trends that we're sure you'll love!
EAN: 0020748328303
Package Dimensions: 11.7 x 4.5 x 4.4 inches